CABA Capital is a leading Danish independent asset management firm specializing in fixed income-based strategies. CABA Capital was founded in 2016 by the three owners: CEO Mette Østerbye Vejen, CIO Carsten Bach, and Chairman Niels-Ulrik Mousten. We currently manage assets worth over EUR 125 million and caters exclusively to professional investors.
Responsible conduct and exemplary governance have always been integral in our values. We are dedicated to our work and recognize that collaborative efforts provide us with the best means to meet the investors' objectives.
Our investment strategies centres around the Scandinavian bond universe, relative value analysis and arbitrage techniques.
Our investment team enjoys a substantial home advantage due to our extensive knowledge of the markets, economic conditions, and political landscape, which gives us a deep understanding of the factors that impact Scandinavian AAA-rated bond values. By leveraging our expertise in these areas, we can make informed investment decisions and seize opportunities that others may overlook.
Our approach is anchored by the utilization of low-risk, AAA-rated Scandinavian spread premiums. We carefully identify and isolate these premiums from AAA-rated bonds and apply an optimal level of leverage to attain unmatched risk/reward ratios.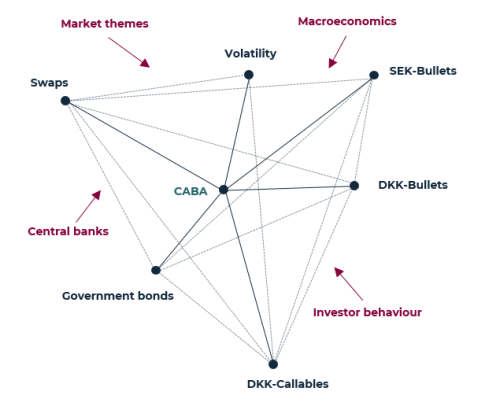 We are responsive and adaptable, able to pivot quickly in response to changing market conditions.

We provide customized reporting to meet the unique needs of investors.

We value innovation and creativity, and continuously seek to improve our processes and offerings.
We believe in being open and honest with investors, colleagues, and stakeholders.

We strive to communicate clearly and effectively, sharing information in a timely and accurate manner.
We are committed to maintaining the highest standards of ethical conduct and integrity.
We align our interests with those of the investors, sharing in the success of our investments.

We believe in a fair and balanced fee structure that rewards performance and aligns our incentives with the investors'.

We seek to build long-term relationships with investors and stakeholders based on mutual trust and respect.
We invest solely in Scandinavian markets, leveraging our deep knowledge and expertise in this region.

We maintain a sharp focus on our investment strategy, carefully selecting and managing the portfolios.

We believe in the long-term potential of the Scandinavian markets and are committed to delivering value to investors through our investment approach.
At CABA Capital, we recognize the financial sector's unique responsibility to support the green transition through its investments and financing activities. We know the importance of responsible investing and management principles.
We ensure that environmental, social, and governance (ESG) factors are taken into account in various initiatives throughout our firm.
We believe that investing in sustainable countries with democratic states that respect human rights, social conditions, and the environment drive higher returns and lower risks.
We are always exploring new investment opportunities and funds to offer. Whether you're interested in learning more about our existing investment strategies or staying informed about upcoming fund launches, we invite you to get in touch with us.
You can also register here to receive our monthly performance updates and information about upcoming fund launches.